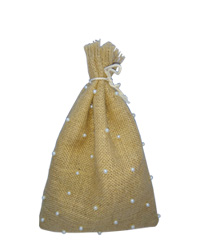 Product Category:
Jute Drawstring Bags
Size/Dimensions:
15 W X 30 H cm
Material:
Embroidered Fabric
Embroidered Jute Drawstring Bags are the perfect combination of a chic and eco-friendly look. These bags are created with jute material, which is a lightweight, versatile, and easily renewable material that does not require much energy to produce. Due to the sourcing of the jute fabric, these bags prove to be one of the best eco-friendly options for fashion-forward folks.
These bags have loads of functional benefits. They are incredibly lightweight, making them easy to carry around all day. The drawstring design allows for easy and secure closure of the bag and keeps items safe and snug. The jute material makes these bags resilient and water-resistant, which makes them ideal for outdoor adventures and day trips.
Moreover, Embroidered Jute Drawstring Bags provide a unique, personalized look that can't be beat. The embroidery options allow for endless designs, so it's easy to find one that truly embodies the wearer's style. Embroidered options may include initials, names, logos, photos, or even small sayings. Whichever embroidery option is chosen, these bags are sure to stand out!
Embroidered Jute Drawstring Bags are the perfect way to add a stylish and sustainable touch to any wardrobe. Perfect for school, work, errands, or just about any other occasion, these stylish bags are a must-have. With their eye-catching style and eco-friendly construction, these drawstring bags are sure to make a statement.
Featured Products