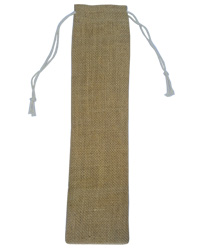 Product Category:
Jute Drawstring Bags
Size/Dimensions:
7 W X 21 H cm
Material:
Jute without lamination
Handle/Strap:
Cotton Cord
With the growing awareness and popularity of environment friendly lifestyle, jute drawstring bags for agarbatti are becoming increasingly popular in India. Jute, or Corchorus capsularis, is a natural and biodegradable material that is produced from the leaves of the jute plant.
Jute drawstring bags are perfect for storing and holding agarbatti and are extremely convenient to use. These bag are eco-friendly nature as they decompose quickly when discarded in the right way. Unlike plastic pouches for agarbatti, these drawstring bags can be relied upon for their strength and durability. The drawstring feature also helps to keep the bags securely closed and prevents the agarbatti from getting tangled or clumped up.
In addition to a secure closure, jute drawstring bags can also provide extra protection to the agarbatti. These bags are made of thick and tear-resistant fabric that can withstand the heat from the agarbatti flames. As an added bonus, the natural texture of the jute fabric creates a beautiful and visually appealing way to display agarbatti.
When buying jute drawstring bags for agarbatti, it is important to ensure that the bags are made of pure jute and are certified by the Biodegradable Products Institute. This certification speaks to the bags' quality and ensures that they are made with premium materials. Not only will this ensure that the drawstring bags are of the utmost quality, but it also helps support the efforts of responsible jute-producers in India.
Jute drawstring bags are becoming increasingly popular for logistical and convenience reasons, but they also provide environmental benefits. By opting for bags made of jute, Indians can ensure that their agarbatti are stored in an eco-friendly manner. Plus, these drawstring bags promote a minimalistic aesthetic, creating an elegant and understated look that celebrates the beauty in simplicity.
Featured Products