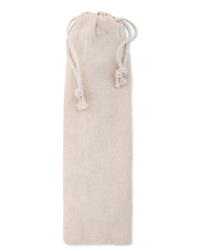 Product Category:
Cotton Canvas Gift Pouches
Size/Dimensions:
15 W X 22.5 H cm
Material:
Cotton Canvas Fabric
Cotton canvas gift pouches are a versatile item perfect for almost any occasion. Their size, affordability, and durability make them ideal for gifting small items. Cotton canvas pouches come in a variety of styles and sizes, and can be customized with designs or embroidery in order to add a personalized touch.
These convenient cotton bags are perfect for gifting jewelry, coins, small lotions, soaps, cosmetics, or trinkets. You can also fill them with candy, small gifts, or even small clothing items. Cotton canvas gift pouches come with drawstrings at the top, making them incredibly easy to use as gift bags.
When it comes to selecting the right cotton canvas gift pouch for your needs, there are several factors to consider. The size of the pouch should be determined by the item you plan to give as a gift. Additionally, look for thick and sturdy canvas material in order to ensure the bag's longevity. Waterproofing is also beneficial for items that need to be kept safe from moisture.
Customizing a cotton canvas bag adds an extra-special level of thoughtfulness, as it can include a personalized message or special design. Most customization we can create custom designs by weaving the design into the fabric, using embroidery, or even screen printing the design onto the canvas. For smaller quantities, you can find many businesses that will provide iron-on patch or vinyl stickers with the design of your choosing.
In addition to its versatility as a gift bag, cotton canvas bags also have numerous practical uses. Many people turn these pouches into reusable storage bags, as they can hold several items without needing to be folded. School or office supplies can easily be kept together in these convenient bags. They can also be used as fun laundry bags, pencil cases, maracas bags, travel bags, book bags, and much more.
Cotton canvas gift pouches are a great choice for any occasion. With a variety of sizes, types, and designs, these chic bags are sure to make any gift look extra special. They are especially perfect for those who want to make a lasting impression with a unique and thoughtful gift.
Featured Products