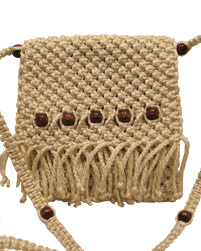 Product Category:
Macrame Shoulder Bags
Size/Dimensions:
38 W X 35 H X 18 G cm
We are manufacturer & exporter of Eco friendly Jute Macrame Shoulder Bags and Crochet shoulder bags. Materials used in macramé include cords made of jute, cotton twine, linen, hemp, jute, leather or yarn. Cords are identified by construction, such as a 3-ply cord, made of three lengths of fibre twisted together. We can make Designer Macrame Shoulder Bags, Macrame Pouch, Macrame Messanger Bags, Macrame Coin Purse, Macrame Hobo, Macrame Shoulder Bags, Macrame Curtain, Macrame Wall Hanging and my Macrame Design.
Featured Products