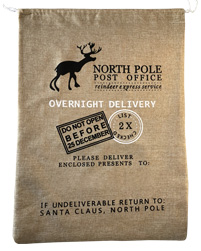 Product Category:
Christmas Burlap Sacks
Size/Dimensions:
60 W x 100 H cms
Material:
Jute without lamination
Handle/Strap:
Cotton Rope
Christmas is a time of joy and merriment, and what better way to add a touch of rustic charm to your holiday celebrations than with Christmas burlap sacks? Burlap sacks are great for adding a bit of drama and texture to your holiday decor. They are perfect for storing gifts and goodies, or even for creating a unique festive centerpiece.
Burlap is a strong, durable fabric that has a unique look and texture. It is often used in various crafting and decorating projects, and is a perfect material for creating Christmas sacks. Burlap sacks are usually made from a thicker grade of burlap, so they are sturdy enough to hold gifts and goodies. They come in a variety of colors and patterns, and can be decorated with ribbons, buttons, and other embellishments to make them look even more festive.
Burlap sacks can be used in many ways to create a unique holiday atmosphere. They can be filled with festive treats and hung from a mantle or doorway. They can also be used to store Christmas decorations, such as ornaments and garlands. They can be filled with Christmas gifts and hung from the ceiling or placed around the home. For a more rustic look, burlap sacks can be filled with pinecones, dried fruits, and other natural decorations.
Featured Products