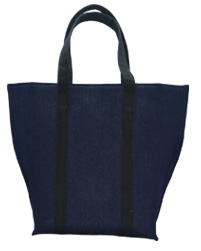 Product Category:
Denim Fashion Bags
Size/Dimensions:
38 W X 35 H X 18 G cm
Handle/Strap:
Canvas Handle
Denim fashion bags have become increasingly popular and stylish in recent years, creating a unique look that has been embraced by fashion-forward individuals. Denim has always been a staple for stylish people, but now it's made its way into accessories - and in particular - bags. Denim offers a fresh approach to accessorizing, by introducing more than just the standard solid colors. Denim bags come in a variety of styles, shapes, and sizes, making it easy to find something that will fit the look of any outfit.
Denim bags come in a range of sizes, shapes, and styles to complement any look. The most popular currently are oversized hobo bags and messenger bags in classic blue with a hint of a distressed look. Other popular styles include patchwork designs, drawstring bags, tote bags, backpacks, and wallets. The versatility of denim makes it easy to mix and match with other fabrics, creating interesting new looks.
Featured Products